Good nutrition has come to the forefront as one of the keys to healthy, profitable cattle.
VitaFerm® Raised
BioZyme® VitaFerm® Raised program is designed to do just that. This program minimizes the effects of stressors like transportation, shrink, co-mingling, processing/handling and new diet acclimation. BioZyme Inc. products are specifically designed to promote proper rumen fermentation and gut health by containing the natural, proprietary prebiotic, Amaferm®, along with a balanced nutritional profile of minerals, proteinated trace minerals and vitamins.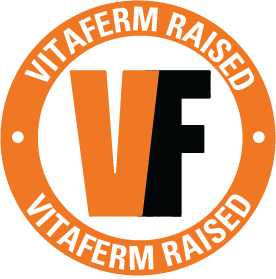 Benefits
Feeding VitaFerm products with the Amaferm® advantage will:
Maximize energy and forage utilization for on-target, efficient nutrition
Boost conception and minimize heat stress
Get calves to come to the bunk sooner
Maximize weaning weight
How to Become Eligible for Value-Added Program Emblem
Option 1: Calf must have been raised on a VitaFerm fed dam and/or was fed a VitaFerm mineral themselves during pre-conditioning for a minimum of 45 days prior to sale through delivery.
Option 2: Weaned cattle or other cattle must be fed a VitaFerm mineral 45 days prior to sale through delivery.
VitaFerm® Gain Smart®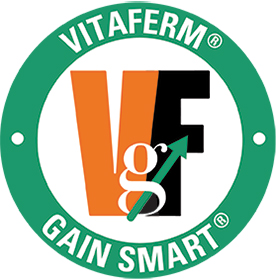 Benefits
Feeding the Gain Smart program with the Amaferm® advantage:
Makes the most of the cheapest feed available to any stocker
Accelerates gain by stimulating the calf's rumen to function at top efficiency
Improves health by reducing the impact of stress, the largest sucker of immunity
Pays a 3 to 1 return through more gain, more health
HOW TO BECOME ELIGIBLE FOR VALUE-ADDED PROGRAM EMBLEM
Calf must have been backgrounded for a minimum of 45 days prior to sale through delivery on a VitaFerm Gain Smart mineral.